Accessory Set for EvöAir Baby Carrier
Description
A set of 3 accessories that makes the babywearing experience with the EvöAir baby carrier even more complete. A lumbar support to reduce strain on the back, leg supports to improve the comfort of the baby and the wearer and a practical belt bag to offer a little storage.
Features
The lumbar support relieves tension in the back
Relieves the carrier's arms of the load the baby puts when carrying without straps (not hand free)
Lumbar support facilitate the transfer on your back
Support de baby's legs close to the body

Keep them in a ergonomic comfortable position
The belt bag attaches to the belt of the EvöAir baby carrier
It can be used alone around the waist
Ideal for carrying an active baby who does not want too much proximity.
Convenient in hot weather to allow a little distance.
Designed in Canada.
Certifications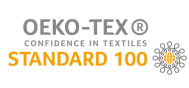 Certifications : ASTM F2236-14, 16 CFR 1226 and EN 13209-2:2015
Adding product to your cart
Features Chart
Chimpäroo Baby Carrier